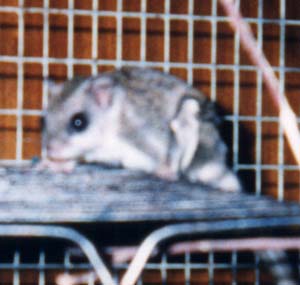 Rakita's Homecage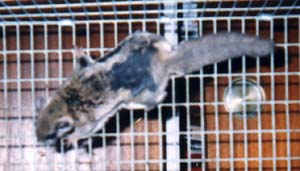 ---
You are squirrel lover number
to visit this site as of Oct. 29, 1998.



Hi, I'm Rakita, the daughter of an unnamed couple of flying squirrels. Well anyway, in case you're wondering, I'm a flying squirrel. I live in Gainesville, FL with a very caring guardian named Andrew Watts. My former home was with a pet dealer in another Florida town who brought me here to live with my owner who bought me. I am very small, weighing about 3 ounces and I was born in late June of 1999. My name almost sounds like Rocky, but feminine. Click here to see my stats. Also, You may see that other people have the privilege of having squirrels as pets. To see a silhouette of my boyfriend and my owner, click here. Makes a great background image! Some of you are saying, "What! A flying squirrel as a pet?" But actually, my kind has been pets since the colonial times. Click here for a painting (by Samuel Copley) of someone with one of my ancestors as a pet. There's only 4 pictures of me here, so please stay tuned for more.
---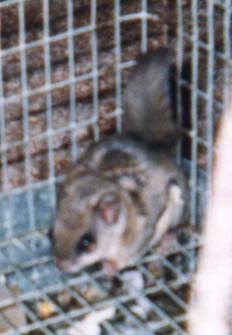 ---
---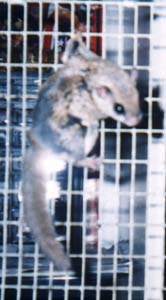 Links to other sites on the Web
Squirrelman's Homepage - My wonderful owner!

The Squirrel Lover's Club - You'll find out how many people love me!

AcmePet Flying Squirrel FAQ - Questions on my species!

Nutsy's Homepage - Another flying squirrel with a homepage!

The Flying Squirrel - More info on my species!

Momongazu World - Japanese flying squirrel link 1

What is Momonga? - Japanese flying squirrel link 2

Flying Squirrel Cages - Cages for your pet flying squirrels

R-Zu-2-U Flying Squirrels - Buy one of my kind!

Nebraska Southern Flying Squirrel - Same species as me; only from another state.

Flying Squirrels in Florida - Yet more stuff about my kind!

Flying Squirrel Rehabilitation -Learn to help those in need.

Flying Squirrel Message board - For people who have my kind as pets.

Scalisti was pet of the day for April 24! - Andrew's so proud of him.
---
Picture from Nutsy's page. I liked it so much I had to include it here.


Click here to go back to Andrew's Pet page. Any questions about me, my cuteness, or anything else?

1997 scalisti@yahoo.com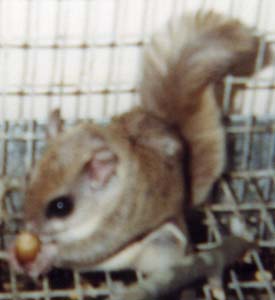 ---
---

"Where are those pecans?"
---
Back to the Squirrel Mansion
Back to Squirrelly Links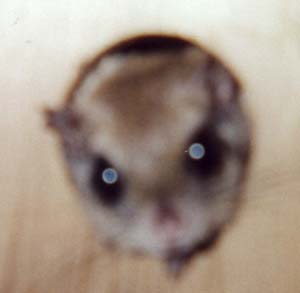 "Bye now!"