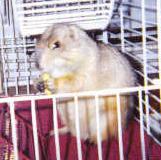 Links to other sites on the Web

More on pet Prairie Dogs
Andrew's Watts' Squirrel Mansion
Charlie's World (lots of graphics!)
Jnola3's pet prairie dogs
A Boy, a Girl, and a Prairie Dog
Biscuit the Prairie Dog
Mischief's Memorial Page
RMAD's Prairie Dog Page - Lots of info on the plight of prairie dogs.
Animals Exotique - Exotic Animal Dealers who sell Prairie Dogs.
Picture from Nutsy's page. I liked it so much I had to include it here.


Click here for the list of other files on this website. Any questions about me, my cuteness, or anything else?

1997 Andrew & Pets


---
---
---


Back to Andrew's Pet Page
Back to the Squirrel Mansion
Back to Squirrelly Links